Acoustic Blankets are also called sound blankets or soundproofing blankets and are custom made in any size required (custom slits, holes patches, windows, strip curtains and more can more can be sewn in to your order).
Our Soundproofing Blankets are in general broken into 2 main acoustical products groups:
Sound Absorbing Blankets re reducing noise by absorbing sound. Blankets are used in industrial plants, manufacturing, gymnasiums, auditoriums, construction sites and many other spaces.
Noise Barrier Blankets are sound barrier to absorb and block sound. Noise Barrier Blankets used in industrial plants, manufacturing, construction sites and many other spaces.
Acoustic blankets are grommeted across their tops and Velcro down both sides for interconnection. Boasting average 20 to 40+ decibel level drops, these self hanging blankets are suspended either from a ceiling or floor mounted frame.
Exterior Grade Noise Control Brochure
Quilted Fiberglass Absorber Composites
Acoustic Blankets & Sound Curtains

Please visit the products below for individual specs and soundproofing material properties.

Don't see what you need? We are sure we can help. Please call our office so one of our sound specialists can assist you. We'd love to hear from you, call 561-964-9360.

Soundproofing Acoustic Blanket Non-Reinforced Standard
Available in 2″ or 3″ thicknesses. Fiberglass quilted soundproofing blanket with vinyl non-reinforced barrier internally sewn in.

High Temperature Soundproofing Acoustic Blanket Non-Reinforced

Just as our standard soundproofing blanket above but with silicone-coated 1″ thick fiberglass blankets it's temperature range is -90° to +550° F allowing this to be ideal for high temperature applications and those where UV resistance is also important.

ANC-AB12-HT: non-reinforced 1lb psf sandwiched between two 1″ silicone-coated fiberglass blankets (*n)

Soundproofing Acoustic Blanket Reinforced Standard

Available in 1 " or 2 " thicknesses. Vinyl-coated-cloth fiberglass facing on quilted fiberglass that is bonded to reinforced loaded soundproofing vinyl barrier.

Sound Absorbing Composites – Noise Barrier

ANC BBC-13X offers the benefits of both a noise barrier and a sound

absorber for outdoor applications.

Outdoor Weatherproof Acoustic Blanket

Available in 1″ or 2″ thicknesses. Fiberglass quilted blanket with vinyl reinforced barrier internally sewn in. Also resin coated for water and weather resistance for outdoor, moist or wet applications.

Barricade Quilted Fiberglass Absorber

Available in 1″, 2″ or 3″ thicknesses. Fiberglass quilted blanket, also known as our barricade baffle. Ceiling or wall mount applications

(This is our AB1 without vinyl barrier )

Outdoor Weatherproof Acoustic Blanket

Available in 1″, 2″ or 3″ thicknesses. Same as above AB2, but with resin coating for water / weather resistant Soundproofing applications.

Exterior Weatherproof Long Term Sound Curtains – non-reinforced

Exterior Weatherproof Sound Curtains An economic non-reinforced 1-LB psf loaded vinyl barrier is bonded to exterior grade vinyl-coated-polyester faced quilted fiberglass absorber.

Exterior Weatherproof Long-term Reinforced Sound Curtains

This barrier-backed Soundproofing product consists of an exterior grade, UV resistant heavy-duty faced quilted fiberglass absorber bonded to a reinforced loaded vinyl barrier.

Soundproofing Door Blanket – Quilted Fiberglass Absorber

Our AB2 blanket trimmed and finished to standard door sizes. Doors & windows are some of the larger factors in noise transmission issues.

Acoustic Blanket & Curtain Hardware
Acoustic Blankets as Large Scale, Specialty & Noise Applications
The versatility of our noise reduction blankets is just about unlimited. Below we note which blanket is used for particular sample and specialty applications.
The size or location of the your application, or the level of unwanted noise is truly no match for our noise reduction blanket materials. Our barriers are highly noise absorbent and designed to absorb unwanted sound reflection in a variety of applications.
Noise Control Blanket Equipment Enclosures
Isolate equipment noise before it becomes a problem
From HVAC units to large computers, office equipment or generators. Pipes, electrical devices, generators or Vacuums, all can be enclosed and their noises isolated by custom enclosures which will quiet their surroundings and prevent other complicated noise issues from starting.
Acoustic Blanket Enclosures for In Plant Application
The loudest & most abusive environments
Within the In-Plant market sites are constantly re-tooling machines, moving equipment, installing equipment. Worker safety and OSHA regulations are key. In-Plant facilities require flexible and durable materials for the huge variety of applications and noise control needs they come across day to day.
Acoustic Blankets In-Plant & Noise Control Enclosure Products
Acoustic Blankets for Heavy Construction
Roaring engines, beeps, gears, banging etc etc
Outdoor versions of our blankets are built for these conditions. Some of the largest construction and engineering companies order our AB1-110 and AB-220 Outdoor Blankets from us. Reinforced, coated and protected to deal with the high abuse and caustic environment of commercial large scale construction projects.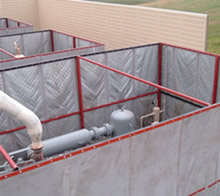 Acoustic Curtains for Outdoor Applications
Toxic fumes, wind, rain and unbelievably loud engines.
Our outdoor versions of noise reduction blankets are built to withstand it all.
Can be used in virtually any outdoor installation, for crowd noise, to block roads and highways noise, construction and outdoor venues to quiet noise from reaching neighborhoods.
Noise Blankets Solve Industrial Size Noise Problems
Contact Noise Control (561) 964-9360 for FREE Consultation or send us a message using our Online form
3 Part Specs
ANC-AB12:
ANC-AB122-2
ANC-AB-133
ANC-AB-133-2
ANC-AB110-EXT-N 2″
ANC-AB110-EXT-R 2″
ANC-QFA-10
Acoustical Blankets Data:
ANC-AB12: 1 lb 2 inch thick
ANC-AB13: 1 lb 3 inch thick
ANC-AB22: 2 lb 2 inch thick
ANC-AB23: 2 lb 3 inch thick
ANC-AB12-HT: non-reinforced
ANC-AB11V: 1″thick  with 1lb vinyl barrier
ANC-AB12V: 1″ thick 2 lb with 1lb vinyl barrier
ANC-BBC-13X: 1.2lb 1″ thick
ANC-AB1-110: 1lb 1″ thick
ANC-AB1-112: 1lb 2″ thick
ANC-AB2-1: 1 inch thick
ANC-AB2-2: 2 inch thick
ANC-AB2-4: 4 inch thick
ANC-AB2-220 Quilted Fiberglass
ANC-AB110-EXT-N: 1 inch thick
ANC-AB110-EXT-N2: 2 inch thick
ANC-AB110-EXT-R: 1 inch thick
ANC-AB110-EXT-R2: 2 inch thick
ANC-AB2DC Acoustic Door Panel
ANC-ABHD Acoustic Blanket Hardware
ANC-QFA1 – Quilted Fiberglass Absorber
ANC-QFA7 – Quilted Fiberglass Absorber
ANC-QFA-8 Sound Absorber
ANC-QFA10 Fiberglass
ANC-QFA10 Fiberglass Flame Specs
INSTALATION INSTRUCTIONS
Case Studies
Testing Equipment Read study
Boeing noise Read here.
Generating Plant generator Read here.
The Shimmery Inc  Read here
GE Aviation Read here
US Coast Guard Read here.
Control Company Read Here
Café Asia Read Here