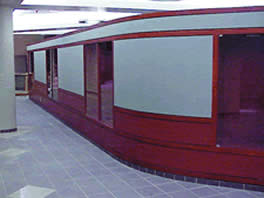 Noise Control Wall Panels
Intel solves server rack noise within internal computer lab room. Read More
University of Florida uses ANC Wall Panels for a small administrative office application to eliminate echo... Read More
ANC-3000 Case Study - Multipurpose Gym & Stage Area Needs Soundproofing Solution to Reduce Reverberation, Noise & Improve Speech Intellgibility. Read More
Noise Control Wall Panel or Decorative Acoustic Panels
Acoustical Wall Panels by All Noise Control are the solution for areas that require noise reduction and are available in a variety of models for various applications. Noise Control Wall Panels can be manufactured in any of the many attractive panel fabrics offered in the industry. All Acoustic Wall Panels are manufactured to the highest standards and are available in standard or custom sizes up to 5' x 10'.
Decorative Noise Control Panel Benefits:
The elegant appearance, excellent noise absorbing characteristics, durability, and ease of installation make our Fabri-Sorb Decorative Acoustical Panels the best choice for controlling noise and echo anywhere aesthetics are important.
What do Noise Control Wall Panels Do?
Acoustical Wall panels are sound absorbing panels that can mount directly to walls or ceilings through a variety of adhesives, impaling clips, hook & loop fasters etc. They are designed to stop noise control issues with their powerful sound absorbing acoustical materials. They are frequently used in offices as they not only prevent noise polution but increase speech intelligibility by reducing reverberation and echoes.
Acoustic Wall Panel Applications
Noise Control Wall Panels are the ideal solution for spaces with reverberant noise problems. Our wall panels can be installed for a variety of applications. Decorative Acoustical Panels provide excellent acoustical and aesthetic enhancement to these typical spaces View Fabric Color Chart:

Offices
Meeting Rooms
Multi-Purpose Rooms
Auditoriums
Churches
Broadcast, Theaters, and Classroom Environments
Why Choose Noise Control Wall Panels?
Our panels are Class A FIRE RATED per ASTM E-84
Light weight easy to install on walls or ceiling applications
Available in 1" and 2" thickness
Sizes from 2' X 2' to 4' X 10' and custom sizes all available
Hardened Wrapped Edge
Noise Control Wall Panel Models Available:
NRC RATINGS:: 1" (.80 - .90) 2" (1.10)
All our Acoustic Wall Panels have 2 color options. View one of our color charts below:
Physical Properties
Colors : 48 polyester fabric Guilford colors
Weight : 5 / 8 pound per square foot
Size: Custom cut thru 4'x 10'
Thickness: I" or 2"
Density: 7 pounds per cubic foot
Fire Rating : ASTM E 84 Class A approved
Smoke Density: 22.75
Breaking Strength: 150 lb/in.
Density: 2 lb/ft
Temperature Limits: -20OF to 180OF
Quilting Patter:4" x 4" diamond size stitching
| | | | | | | | |
| --- | --- | --- | --- | --- | --- | --- | --- |
| FREQUENCY (Hz) | 125 | 250 | 500 | 1K | 2K | 4K | NRC |
| | | | | | | | |
| 1" Thick | .11 | .30 | .77 | 1.02 | 1.00 | 1.00 | .85 |
| 2" Thick | .46 | 1.00 | 1.07 | 1.05 | 1.10 | 1.18 | 1.15 |
| | | | | | | | |