Royal Blue

White

Beige

Taupe

Gold

Brick

Red

Wine

Burgundy

Purple

Forest

Navy

Grey

Black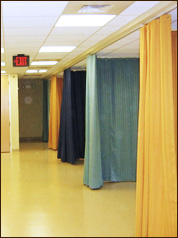 Contact Noise Control Specialists for FREE Consultation (561) 964-9360 or send us a message using our Online form
Sound Transmission Loss Test Report
Acoustic Curtains Color Chart:
Acoustic Curtain Color PDF Chart
Detailed Specifics of WEAL Lab Test Results
LAB TEST RESULTS
A STC rating describes the average number of decibels blocked by a material.
Our STC Sound Blocking curtains work due their inner linings. These linings are specialized, proprietary vinyl's made exclusively for Quiet Curtains. The face fabrics used to construct the curtains have little impact on sound blocking. See the Table below for recommended face fabrics.