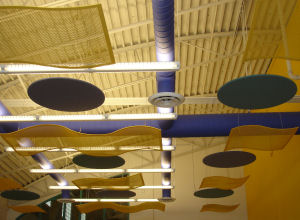 Press Release: Sound Absorbing Ceiling Clouds
All Noise Control, Sound Absorption product experts in Florida, announces the launch of their new ceiling clouds acoustical material.
All Noise Control Sound Absorption ceiling clouds are a very effective treatment for the reduction of sound in ceiling areas.
All Noise Control Sound Absorbing ceiling clouds suspended horizontally, with our eye-hook or t-grid attachment mounted to the cloud at the time of shipment.
Sizes: Standard up to 4′ x 10′
Face & edges wrapped in fabric, perforated vinyl t o match, or accentuate the room design.
Ceiling Cloud answer your acoustical and aesthetic needs with their strong sound-absorbing performance, durability and elegant appearance.
These hanging acoustical cloud panels are used for noise reduction and reverberation control.
With growing demand for privacy option offices, All Noise Control hopes their Sound Absorption ceiling clouds will create a dialogue and bring noise control options closer to consumer's fingertips.
About All Noise Control
All Noise Control supplies and custom manufacturers a wide variety of cost effective, high performance acoustical products for noise control in commercial, industrial, institutional markets as well as other specific markets like Houses of Worship.
All Noise Control has been front-runners in delivering specialized noise control materials solving virtually any noise control issue. Be it improved acoustics for theater, broadcasting and audio or churches or blocking noise in industrial plants, heavy construction sites, outdoor large scale applications and others to many to list.
Once you have had a chance to visit this site, contact All Noise Control. Our consultants trained to answer any question, construct a solution to your noise pollution problem, and help you figure out the appropriate products, quantities, and installation guidelines.
You may find our division websites useful. They have designed them with specific products for specific problems in their respective areas.
Contact us at 561-964-9360 or visit the webpage at www.allnoisecontrol.com