Acoustic Blankets ANC-AB12 – The barrier septum configuration offers the benefits of both sound absorption and noise barriers.  Noise Barrier ANC-AB12 consists of a non-reinforced 1-lb psf loaded vinyl noise barrier sandwiched between two layers of vinyl-coated-fiberglass-cloth faced 1" quilted fiberglass sound absorbers.

Acoustic Curtain panels with grommets across the top and hook and loop fasteners along the vertical edges
Rolls are available 4' wide x 25' long and can be supplied with edges bound or unbound
Available colors: gray, white, black, or tan
Class A (or 1) flammability rated per ASTM E84
Acoustic Blankets ANC-AB12 -Noise Applications:
Typical uses include acoustic curtain panels in acoustical enclosures. Also used as separator walls or divider partitions between noise sources. Commonly used to line the perimeter walls of a building, or as a free-hanging noise barrier/sound absorber wall.
Acoustical Product Data:
Vinyl coated fiberglass cloth faced 1" quilted fiberglass /
1lb-psf non-reinforced loaded vinyl barrier/
Vinyl coated fiberglass cloth faced 1" quiltedfiberglass
| | | |
| --- | --- | --- |
| | Flammability | Class A:   Flame Spread: 22.78 |
| | | Smoke density: 30.56 |
| | Nominal thickness | 2.00 inch |
| | Temperature range | -20° to +180° F |
| | Standard width | 48" wide |
| | Roll length | 25' long |
| | Weight | 1.5 lb psf |
Acoustical Performance:
Sound Transmission Loss
OCTAVE BAND FREQUENCIES (Hz)

Product

125

250

500

1000

2000

4000

STC

ANC-AB12

12

16

27

40

44

43

29
ASTM E-90 & E 413
Sound Absorption data
OCTAVE BAND FREQUENCIES (Hz)

Product

125

250

500

1000

2000

4000

NRC

ANC-AB12

.19

.99

.96

.80

.57

.33

.85
ASTM C 423
Contact Noise Control Specialists for FREE Consultation (561) 964-9360 or send us a message using our Online form
Acoustic Blankets Cutting Directions
Quilted Fiberglass Absorber Composites
Acoustic Blankets for Sandblasting Booth
Acoustical Blanket ANC-AB12 Case Study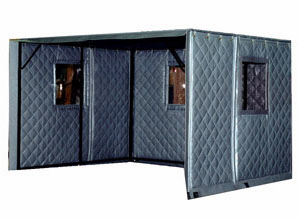 Acoustic Applications
Class 1 Public Buildings
Industrial Plants
Inplant Offices
Loud, stationary Noise Sources
Encloseable Noise Sources
Outdoor Noise Sources
Compressers
Printing Presses
Drills
Machine Enclosure Curtains
In-plant Noise Baffles
HVAC Applications
Stamping Presses
Conveyors
Pipe and Duct Jackets
Inplant Noise Curtains
OEM Applications
Auditoriums