Hospitals and Clean Room Noise Control
Cleanroom environments impose sanitation constraints diametrically opposed to the basic construction of noise control materials and systems because of this we have special Healthcare Acoustics.
Clean rooms require washable, cleanable, dust, and fiber-free Healthcare Acoustics. Clean rooms usually are designed with hard and reflective floor and wall treatments, which create a high level of reverberation or echo leading to poor speech intelligibility within the cleanroom.
There are several acoustical products and supplies that can be used in cleanroom design to reduce noise from equipment to create a better working environment.
All Noise Control offers cleanroom class 100 to class 1000 approved acoustical foams, wall panels, and ceiling tiles that can be used with your cleanroom design to help soundproof your equipment.
The following set of products have all been approved for soundproofing use in cleanroom settings, kitchens, food processing plants, pharmaceutical plants, and any other venue that requires cleanroom approval.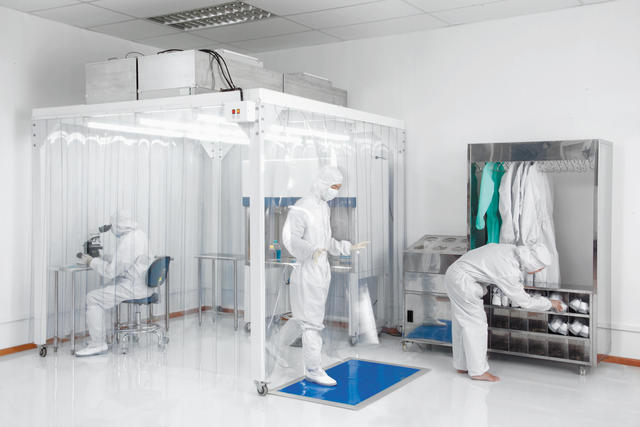 -Baffles reduce the reflection of sound waves by adding soft, porous, open-celled materials to an environment. These USDA approved baffles are a durable and virtually rip-proof method of adding sound absorption to Healthcare Acoustics areas.
The sound absorption core is completely encapsulated in a reinforced polyester film. The white facing reflects light, which adds to the illumination in a room. Standard size is 4'x2' with two brass grommets on one four foot side.
– Absorb sound reflections in cleanroom environments are these popular vertically suspended baffles that are also approved for use in clean room and food processing venues. Noise Control baffles are the ideal solution to reverberation issues in areas where a low level of pollutants is required. The baffles are comprised of a sound absorptive fiberglass core completely encapsulated in a reinforced mylar film. The white facing reflects light, which adds to the illumination in a room. Standard size is 4′ x 2′ with 2 brass grommets on one four foot side. FDA Approved – Washable – Stain-resistant NRC rating up to 12.8 per 4′ x 2′ baffle. Core densities (1.6 lb or 3.0 lb core)
– fiberglass panels encapsulated in a ripstop polyester skin approved for use in food processing, clean room, kitchen, and laboratory settings. Ideal for absorbing unwanted sound reflections in most any cleanroom setting.
– Clean Room Wall Panels, custom cut to 2'x2′ or 2'x4′ panel dimensions for dropping horizontally into an existing ceiling tile grid system.
– All Noise Control sound absorption ceiling baffles are the best to solve any reverberation problems, in any large space. Our acoustical ceiling baffles are lightweight, Class A fire-rated, and available in various colors and sizes to meet any acoustical needs.
– All Noise Control Wall Panels are the ideal solution for spaces with reverberant noise problems. Our wall panels can be installed for a variety of applications.
Call us today at 1-561-964-9360
Soundproof Clean Rooms"
Brochure:
Case Study
Suggested Products:
Clean Room Wall Panels:

Acoustical Ceiling Baffles
ANC – 600 Ceiling Baffles:
ANC – 600P Ceiling Baffles:
ANC – 700 Ceiling Baffles:
Ceiling Tiles Data
Mass Loaded Vinyl Barrier
Acoustic Fabric