The model ANC-3500 sound absorption acoustical wall panels stops noise in the room where it starts and is ideal for applications where confidentiality needs to be maintained. It offers high STC (STC 29 ) and NRC ratings.
The ANC-3500 sound absorption wall panel is available in 1 1/8″ and 2 1/8″ thickness with sizes up to a maximum of 4′ x 10′.
ANC-3500 Sound Absorption Acoustic Wall Panel Details:
Wall Panel Substrate: 6-7# PCF rigid fiberglass core with optional chemically hardened edges.
Wall Panel Mounting: Impaling clips, 2 part mechanical clips, Hook & Loop fasteners with base angle support, construction adhesive.
Wall Panel Finishes
. Guilford of Maine FR 701 Style 2100 is standard
. Designer and customer specified fabrics are available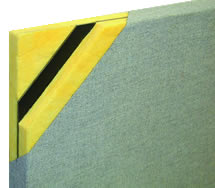 Acoustical Wall Panel NRC Ratings
5/8″  : .60
1 1/8 " : .95
2 1/8 " : 1.05
STC Rating: (STC-29)
Wall Panel Edge Details: Square, Bevel, Radius, Miter
Physical Properties
Colors : 48 polyester fabric Guilford colors
Size: Custom cut thru 4'x 10′
Thickness: 1 1/8 " or 2 1/8″
Density: 7 pounds per cubic foot
Fire Rating : ASTM E 84 Class A approved
Smoke Density: 22.75
Breaking Strength: 150 lb./in.
Density: 2 lb./ft.
Temperature Limits: -20OF to 180OF
| | | | | | | | |
| --- | --- | --- | --- | --- | --- | --- | --- |
| FREQUENCY (Hz) | | | | | | | |
| | | | | | | | |
| 1″ Thick | .11 | .30 | .77 | 1.02 | 1.00 | 1.00 | .85 |
| 2″ Thick | .46 | 1.00 | 1.07 | 1.05 | 1.10 | 1.18 | 1.15 |
| | | | | | | | |
Contact Noise Control Specialists for FREE Consultation (561) 964-9360 or send us a message using our Online form
Wall Panels ANC-3500 Data
Case Studies
Acoustic Applications
Sanctuaries
Gymnasiums
Radio Stations
TV Stations
Recording Booths
Music Rooms
Fellowship Halls
Surround Sound
Telemarketing Stations
Drummers
Band Rooms
Conference Rooms