Offering the benefits of both a noise barrier and a sound absorber in a single composite.
ANC-AB11V is a 1lb quilted blanket consisting of a vinyl-coated-fiberglass-cloth faced 1" quilted fiberglass sound absorber that is bonded to a reinforced 1-lb psf loaded vinyl noise barrier.  Curtain panels are constructed with grommets across the top and Velcro along the vertical edges.  Rolls are available 54" wide x 25' long and can be supplied with edges bound or unbound. (note: barrier is 54″ wide, quilt is held 3″ in from each vertical edge, and measures 48″)
Class A (or 1) flammability rated per ASTM E84
Available facing colors: gray, white, black, or tan
Available barrier colors: gray, tan, or blue
Typically used as curtain panels in acoustical curtain enclosures where abuse resistance or excellent durability as well as maximum noise reduction is required.  Frequently used as sliding doors on acoustical curtain enclosures. Also, preferred for use in outdoor applications, as well as a durable acoustical wrap.
Product Data:
Description
Vinyl coated fiberglass cloth facing on 1" quilted fiberglass/
One pound per square foot reinforced loaded vinyl barrier
Flammability
Flame Spread: 23.0
Nominal thickness
1 inch
Temperature range
-20° to +180° F
Standard width
54" wide
Roll length
25' long
Weight
2.3 lb psf
Sound Transmission Loss
OCTAVE BAND FREQUENCIES (Hz)
Product
125
250
500
1000
2000
4000
STC
ANC-AB11V
11
16
24
30
35
30
29
ASTM E-90 & E 413
Sound Absorption data
OCTAVE BAND FREQUENCIES (Hz)
Product
125
250
500
1000
2000
4000
NRC
ANC-AB11V
.12
.47
.85
.84
.64
.62
.70
ASTM C 423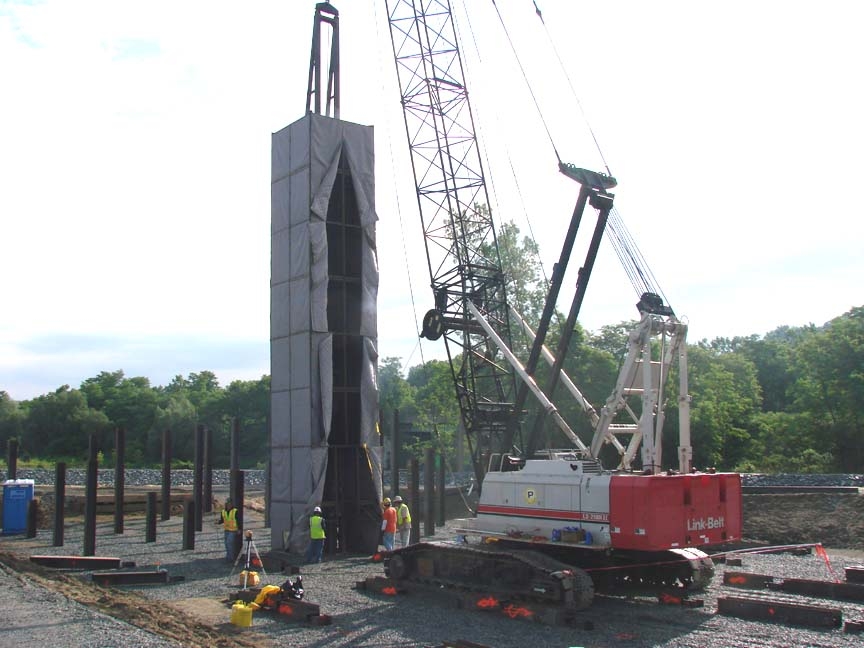 Contact Noise Control Specialists for FREE Consultation (561) 964-9360 or send us a message using our Online form
Acoustic Blankets Cutting Directions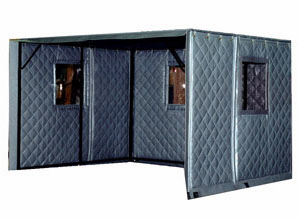 Acoustic Applications
Class 1 Public Buildings
Industrial Plants
Inplant Offices
Loud, stationary Noise Sources
Encloseable Noise Sources
Outdoor Noise Sources
Compressers
Printing Presses
Drills
Machine Enclosure Curtains
In-plant Noise Baffles
HVAC Applications
Stamping Presses
Conveyors
Pipe and Duct Jackets
Inplant Noise Curtains
OEM Applications
Auditoriums