Possibilities are endless with our line of acoustic Glass Fiber & Wood Panels. Contact us for more information on applications & uses to use with Glass Fiber & Wood Panel Acoustic materials. Our trained acoustic specialists will assist in designing your perfect application based on your needs.
Acoustical Product Edge Details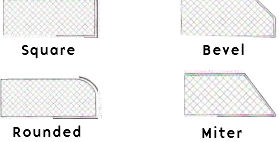 Acoustic Wood & Glass Fiber Panel Glue/Adhesive Techniques
| Impaling Clip | Mechanical Clips | Mounting Adhesive | Hook & Loop Fasteners |
| --- | --- | --- | --- |
Impaling Clip Installation
Put a bead of PSA-29 panel adhesive around the perimeter of the back of the panel – approx ¼″ bead, as well as a few locations on the back of the panel that will touch the wall between the impaling clips.
| | | | |
| --- | --- | --- | --- |
| Glue or screw impaling clip to the wall and allow to dry completely. | Align panel and impaling clips so that impaling clip touches the fiberglass rather than the fabric wrapped around the back of the panel. | Begin to press impaling clips into the back of the panel. | Press panel all the way onto the impaling clip so the panel is touching the wall making sure that the panel is pressed completely on to each of the impaling clips. |
Mechanical Clip Installation
| | | |
| --- | --- | --- |
| Wall bar attaches to wall with standard screws (provided by others). | The panel clip will be screwed into hardened epoxy spots on the backs of the panels. | Please note that due to the clips there will be a small space between the structure and the panel. |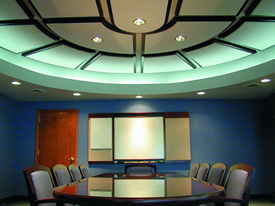 Options
Acoustic Applications
Sanctuaries
Gymnasiums
Radio Stations
TV Stations
Recording Booths
Music Rooms
Fellowship Halls
Surround Sound
Telemarketing Stations
Drummers
Band Rooms
Conference Rooms
Physical Properties
Colors : 48 polyester fabric Guilford colors
Weight : 5 / 8 pound per square foot
Size: Custom cut thru 4'x 10′
Thickness: I" or 2″
Density: 7 pounds per cubic foot
Fire Rating : ASTM E 84 Class A approved
Smoke Density: 22.75
Breaking Strength: 150 lb/in.
Density: 2 lb/ft
Temperature Limits: -20OF to 180OF
Quilting Patter:4″ x 4″ diamond size stitching
Need technical assistance? Contact us here….