Acoustic Blanket Model Track & Framing Hardware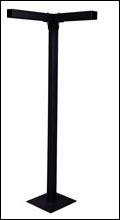 Acoustical Blanket Track and Hardware systems are designed for the installation of acoustical curtain enclosures & fiberglass acoustic blankets.  The track & hardware can be configured for the floor, ceiling, suspended, beam, and wall-mounted systems.  Double track systems allow for slide-open access.  Our heavy-duty structural steel systems are utilized on large enclosures.
Designed for installation of acoustical curtain enclosures
Double track systems allow for easy access
Floor, suspended, ceiling, beam, and wall-mounted acoustical systems
Heavy-Duty structural steel systems available
All Noise Control can provide customized quotes for sound control blanket hardware designed to provide the framing you need for your soundproofing project. contact us at 561-964-9360.
Roller Track & Universal Mount Hardware
All Mounting Options Start with Track Lengths & Either Nylon Roller Hooks with Capacity up to 40 lb load limit or heavier duty Steel Rollers with ball bearings with a 75 lb load limit.
Beam Flange Mount
A beam mount is a simple, versatile mount type. These mounts attach to the a lip of a horizontal beam or truss and tighten with an adjustable C-Clamp The Beam Flange is of the easiest types of mounts to deal with.
Threaded Rod Mount – Suspended Mount
Threaded Rod Mounts use a 3/8″ Threaded Rod is inserted through this mount with a nut to tighten and adjust at the track mount. The upper or top end of the threaded rod is put through a Beam Flange Mount than can grip to a girder or I-beam. This is the sturdiest mount and sometimes required in areas where Earth Quakes are prone.
Ceiling Mount 
Ceiling mounts are made to be Screwed directly into beams, Studs, or Hard Non-Drop Ceiling Mounts. The Mounts can also be tack welded to I-beams or girders instead of using screws.
Brochure
Acoustic-Curtain Hardware System
Installation
Acoustic Curtain Track Install
Typical Floor Mounted Frame System
Contact Noise Control Specialists for FREE Consultation (561) 964-9360 or send us a message using our Online form


Acoustic Applications
Class 1 Public Buildings
Industrial Plants
Inplant Offices
Loud, stationary Noise Sources
Encloseable Noise Sources
Outdoor Noise Sources
Compressors
Printing Presses
Drills
Machine Enclosure Curtains
In-plant Noise Baffles
HVAC Applications
Stamping Presses
Conveyors
Pipe and Duct Jackets
Inplant Noise Curtains
OEM Applications
Auditoriums
Need technical assistance? Contact us here….