Acoustic Blanket Model Track & Framing Hardware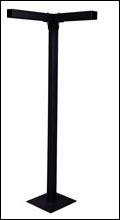 Acoustical Blanket Track and Hardware systems are designed for the installation of acoustical curtain enclosures & fiberglass acoustic blankets.  The track & hardware can be configured for floor, ceiling, suspended, beam and wall mounted systems.  Double track systems allow for slide-open access.  Our heavy duty structural steel systems are utilized on large enclosures.
Designed for installation of acoustical curtain enclosures
Double track systems allow for easy access
Floor, suspended, ceiling, beam, and wall-mounted acoustical systems
Heavy-Duty structural steel systems available
All Noise Control can provide customized quotes for sound control blanket hardware designed to provide the framing you need for your soundproofing project. contact us at 561-964-9360.

Contact Noise Control Specialists for FREE Consultation (561) 964-9360 or send us a message using our Online form


Acoustic Applications
Class 1 Public Buildings
Industrial Plants
Inplant Offices
Loud, stationary Noise Sources
Encloseable Noise Sources
Outdoor Noise Sources
Compressors
Printing Presses
Drills
Machine Enclosure Curtains
In-plant Noise Baffles
HVAC Applications
Stamping Presses
Conveyors
Pipe and Duct Jackets
Inplant Noise Curtains
OEM Applications
Auditoriums
Need technical assistance? Contact us here….