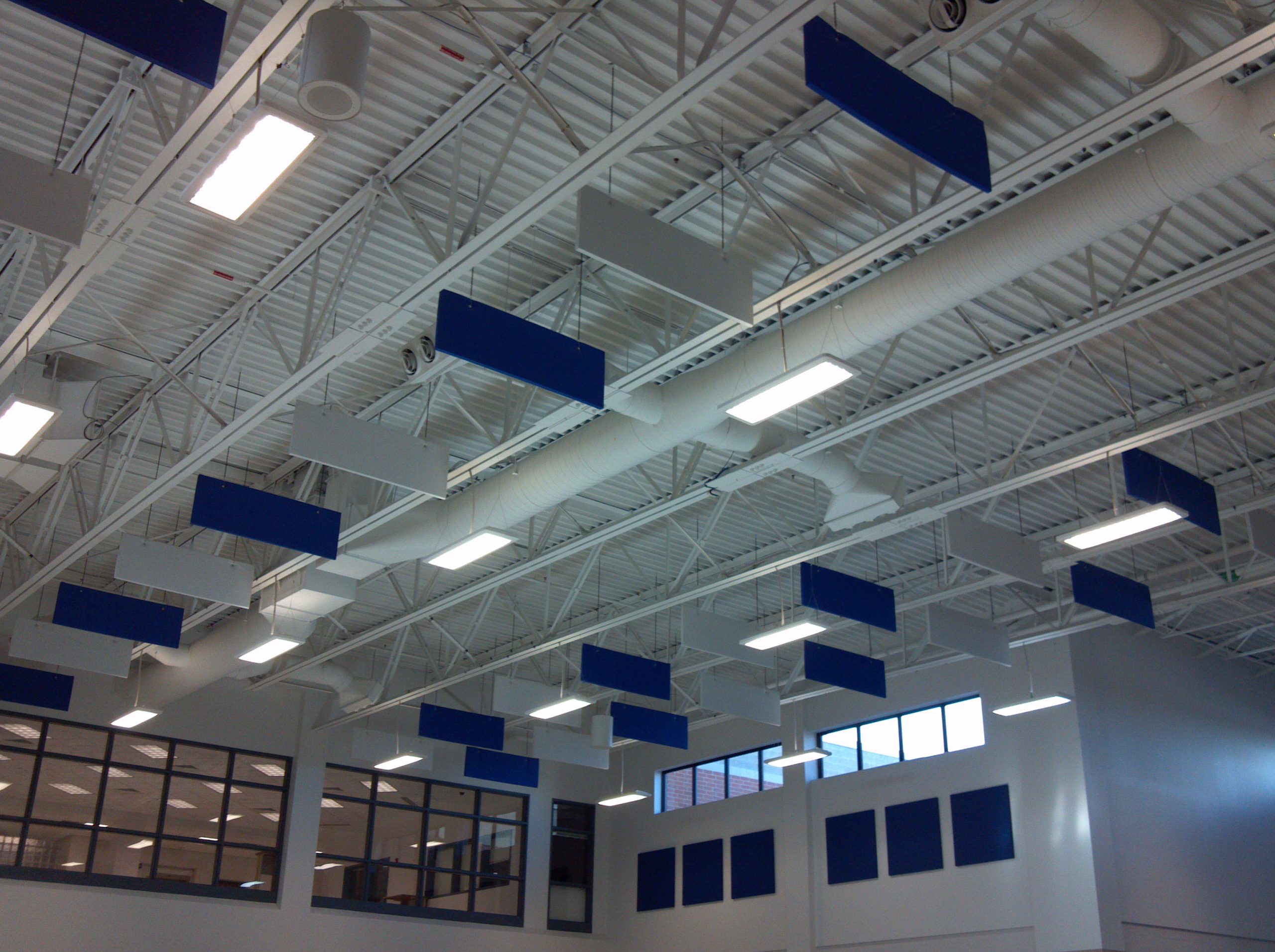 Acoustical ceiling baffles are the best to solve any reverberation problems, in any large space which require various density cores. Our acoustical ceiling baffles are lightweight, Class A fire-rated and available in various colors and sizes to meet any acoustical needs.
The ANC-700 acoustic ceiling baffle comes 1″, 1 &frac12 " & 2″ thick in standard 2'x4′ sizes. They are available up to 4'x8′ for larger applications.
ANC-700 Premium acoustic Ceiling Baffles & Banner Acoustical Details:
Construction:
Semi Rigid
Sizes:
2′ x 4′ standard, 4′ x 10′ maximum
Thickness:
1″ or 2″
Substrate:
2-3 lb per cubic foot rigid fiberglass core
Mounting:
Grommets on sewn edges
Acoustical:
Acoustic Spec's Details
Facing:
Sailcloth Nylon
Edge Detail:
Square
NRC:
1″ .85
2″ 1.25
Fire Rating:
All components have a Class A fire rating per ASTM E-84
Physical Properties
Weight: 4 pounds
Fire Rating: ASTM E 84 Class A rated
Edge Construction: Heat sealed seams
Core: 2 pound fiberglass
Surface Finish: PVC vinyl covering
Density: 2 pounds per cubic foot
Ceiling Baffle Home: view details

Acoustical Data:
How To Install:
Case Studies

Acoustic Applications
Kennels
Gymnasiums
Industrial Plants
Printing Plants
Swimming Pools
Fellowship Halls
Telemarketing Rooms
Childcare Facilities
Animal Shelters
Natatoriums
Auditoriums
Shopping Malls
Commercial Printing
Laboratories
Clean Room Applications
High Humidity Applications
Wet Rooms
& More!